Cat Controller
"There are two means of refuge from the misery of life - music and cats." - Albert Einstein
I've always wanted to make a film starring a cat, and I got that opportunity last month for the surreal comedy TV series I make with Dave Packer and German TV station Deutsche Welle – The Strange World Of Max X. Now that we've done it I wonder why it took me so long; my own cat Chibi is adorable and a total camwhore, you'd think I'd have a whole bunch. Over the years I've thought of doing Kitler videos, cats rampaging through models of cities, time travelling and astronaut cats, but this is the first finished feline film.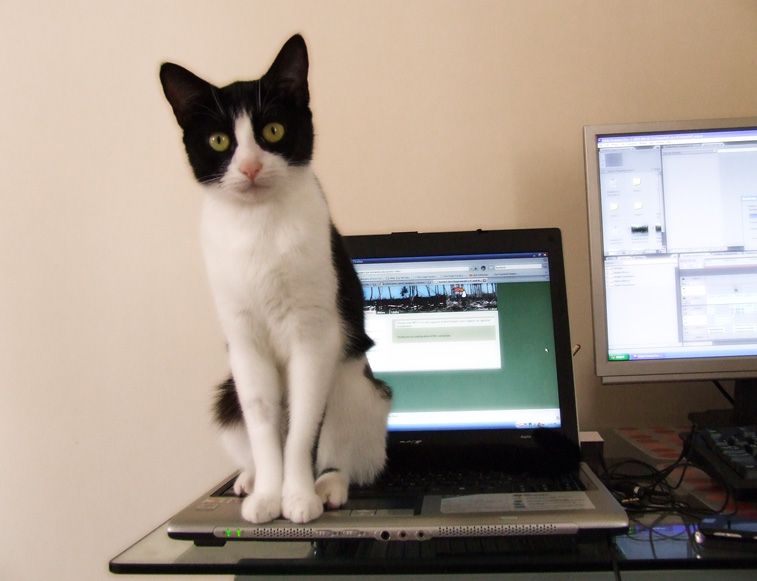 My talented screenwriter and cat obsessive missus wrote the outline - a cat acquires a special collar that enables it to manipulate any human wearing it via remote control. I pitched this to Dave, who stars as Max X, produces, and does all of the great visual effects. Both he and Deutsche Welle liked the idea, so we quickly got to work before the crappy British weather got the better of us.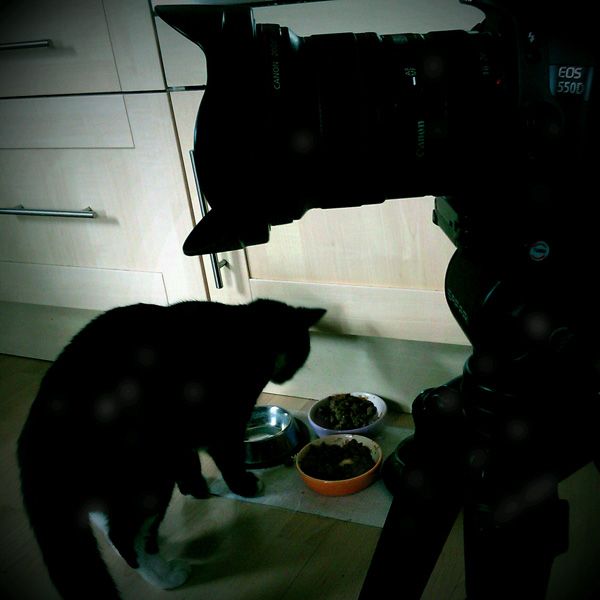 First thing to do was acquire the main prop – a collar big enough for a human that could also look appropriately gadgety. We found a large dog collar at a pet shop (receiving strange looks when I checked to see if it would fit Dave's neck) and also bought some random electrical components. Dave attached wiring and switchable LEDs to the collar, before going all Method and practising numerous cat mannerisms - eating from the floor, chasing pigeons and meowing at the cat flap, thankfully stopping short of licking his own genitalia or marking his territory.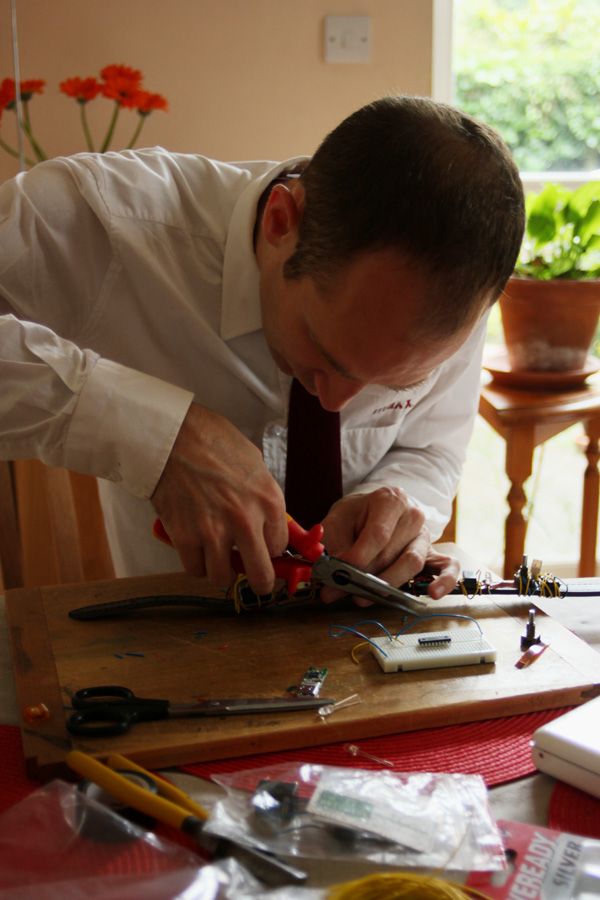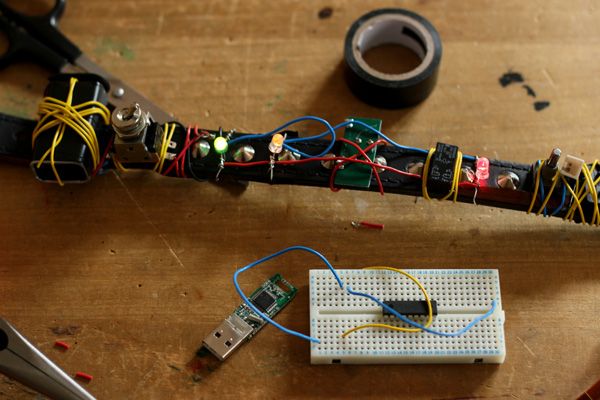 I was initially slightly apprehensive to be making a film starring a performer who might run away or fall asleep during a scene. Pussington the cat has made cameo appearances in over 20 episodes so far though, and is something of a veteran. He gives surprisingly emotive performances.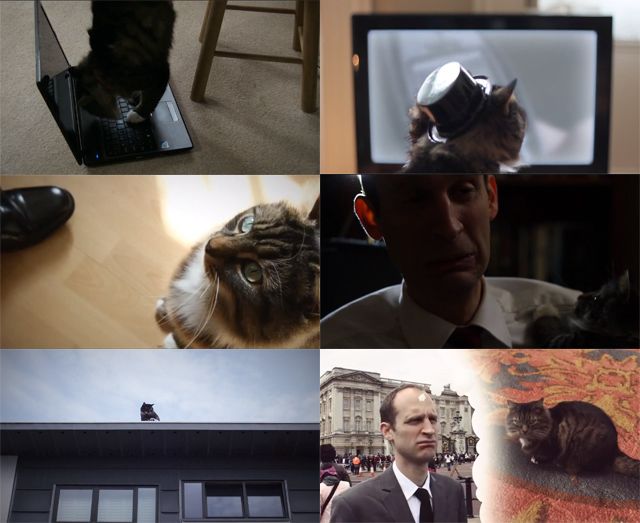 We got him to dance, play keyboard and operate a PS2 controller, partly achieved using fake cat paws that Dave had constructed from wire and fake fur. Scratching of Pussington's tailbone with a brush kept him keen when his interest waned, as well as a plentiful supply of ham dangled at him. Eagle-eyed viewers may spot some fragments of ham in Pussington's eyeline. He seemed remarkably chilled out by the overall experience, and whenever I visit now he will purr and look up at me expectantly, waiting for his close-up (or ham). A lot of people say you should never work with animals, but so far I've got nothing bad to say about cats.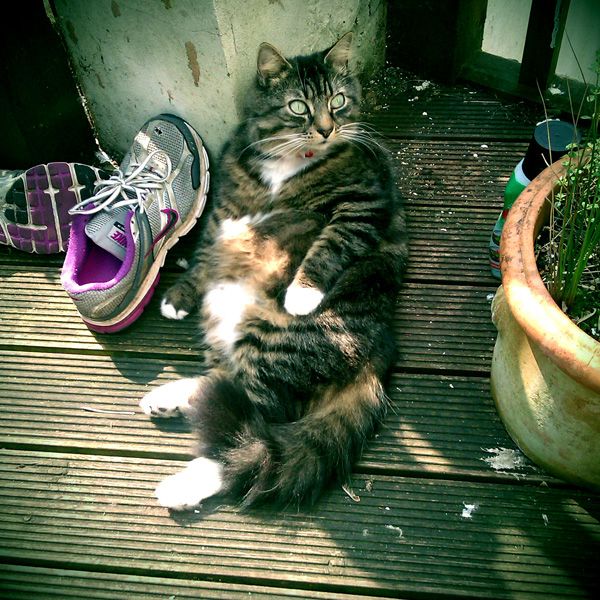 I shot the film over the course of a few days on my Canon 550d DSLR, then cut it on Premiere and set the musical montage to 'Troll Physics' by the excellent Binster (aka Mpegasus aka Martin Binfield).
The first version of the edit included a scene where Puss plays a violent shooter game, the on-screen cat gunning down a zombie Max in a tunnel. Deutsche Welle thought this was a bit too nasty (in hindsight they were probably right) so we cut the FPS and replaced it with a more sedate underwater platformer featuring Puss in a snorkel chasing fish. The missus also preferred this; she didn't think it was in character for a cat to be interested in shooting zombies. Catching fish made more sense.
I thoroughly enjoyed making this film and can't wait for the next time Puss has a starring role. He seemed to enjoy being the focal point. Or maybe he just tolerated our idiocy for the ham and regular posterior scratches. No doubt there'll be lots more films starring Puss, Chibi and any other cat we can get our hands on from now on.
The finished film is below, and all other episodes can be seen on the show's Youtube page and via Deutsche Welle. I'll continue to post behind-the-scenes and other material when we make new ones. If you'd like to be updated on new Max X film please subscribe to the Youtube channel, and for info on upcoming films by me you can join our mailing list above ^
Thanks for watching, and be wary of letting your cat near a credit card…